Top 2019 Marketing Conferences to Gain That Competitive Edge
As marketers, we've shifted a significant portion of our attention and spend from offline channels to online. With that said, conferences are still a place where companies can expand their awareness with targeted audiences, generate new leads, consummate deals, or do on-the-ground buyer research. For individual marketers or marketing technologists, conferences are a great place to make new contacts, to become educated on cutting edge (or foundational) topics, to learn about new marketing technologies or tools, and to build up their personal brand (by speaking, for example).
Planning the right conference strategy takes time — whether you're attending, planning to present, sponsoring, or creating a presence at various events. In addition, the earlier you make your decisions, the cheaper it is (most have significantly reduced early bird rates), the better hotel you'll be able to book, and the better spot on the expo floor you can select.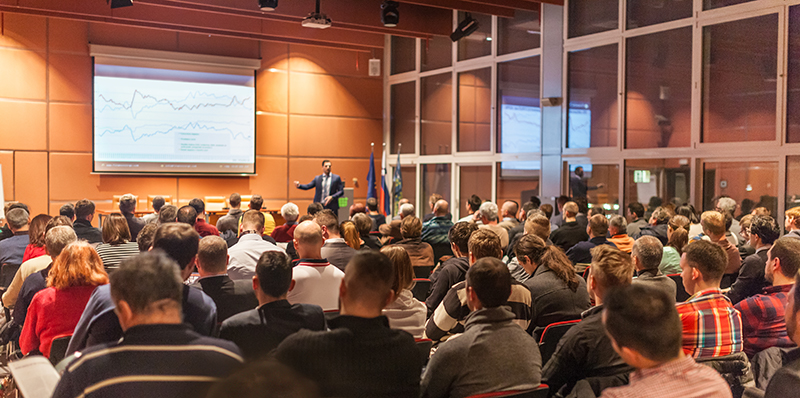 So, with that in mind, below are 31 marketing, marketing technology, digital marketing and social media conferences and events to consider for 2019. Some have multiple dates/locations, so check in with the conference websites for all of the details for those that look interesting. If dates and other details aren't available for a conference yet, you may be able to receive updates by signing up on the event's website.
SMX – Search Marketing Expo
There are multiple Search Marketing Expo events across the globe, including a yearly SMX Advanced session, which is usually held in Seattle. These events have been held for SEO and SEM professionals since 2007. They're produced by the folks at Search Engine Land and Marketing Land and are a great place to learn about search engine optimization, PPC marketing and other digital marketing strategies, tactics and tools.
Affiliate Summit West
Established in 2003, Affiliate Summit West is the major performance marketing / affiliate event to attend. There are also East, APAC and Euro events as well (check the site for dates for those). Affiliate Summit West 2019 (#ASW19) will be held at Paris Las Vegas January 6-8, 2019. Attended by bloggers, media companies/publishers, advertisers, global brands, tech firms, digital agencies and more. The event includes the seminars, a marketplace/exhibit hall and plenty of networking opportunities.
The Gathering
February 20-22, 2019
Fairmont Banff Springs Hotel, Banff, Alberta
The Gathering is (per their event page) "an annual, informal coming together of the enlightened, influential illuminati behind the famous names that are getting customer engagement right. It is an intimate series of talks, workshops, parties and meals for them and their acolytes." It's a conference in beautiful Banff, Alberta, organized by the Cult Marketing Engagement Agency that features brands who have had success with customer engagement. In addition to presentations by industry leaders, it includes plenty of networking and a variety of bands and musicians for entertainment as well. In 2017, it had about 2,500 attendees.
B2B Marketing Exchange
February 25-27, 2019
Hyatt Regency Scottsdale, Scottsdale, AZ
The B2B Marketing Exchange has over 100 speakers and will be attended by 1000+ B2B marketers. In 2019, the featured speaker is David Meerman Scott. The marketing exchange includes workshops and case studies, opportunities to meet the experts, networking and the ability to meet providers of marketing tools and technologies.
Traffic & Conversion Summit
February 25-27, 2019
Marriott Marquis San Diego Marina, San Diego, CA
Billed as the largest marketing event in North America, the Traffic & Conversion Summit is attended by thousands of digital marketers who look for "strictly actionable strategies and content." They even have a strict "no theory" policy! Past speakers have included Dr. Robert Cialdini, Mari Smith, Gary Vaynerchuk, Pat Flynn, William Shatner and Ryan Deiss.